Central To Health Chiropractors & Practitioners
---
Dr Bec Bowring (Chiropractor)
As long as I can remember I have wanted to be a chiropractor. When I was about 6 years old I hurt my neck whilst attempting a world record monkey-bar routine and before I knew it I was whisked off to Mr. Barnes our family chiropractor for just the adjustment to get me back to mischief-making. Mum still reckons if it wasn't for him she would not be able to walk and as he was a very elderly gentleman, someone had to pick up the baton & keep her in shape! I started my formal chiropractic education at NSW University in 1989 and graduated with a Masters in Chiropractic from Macquarie in 1993. Throughout this time I also studied various forms of chiropractic technique, in particular SOT, the technique I am now certified to teach to other chiropractors & students…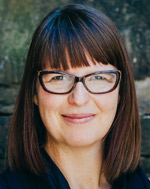 Availability
Mon am Artarmon
Mon pm Surry Hills
Wed am & pm Alexandria
Thu am & pm Surry Hills
Sat am Surry Hills (& every 2nd wk at Alexandria)
…Click to read more about Dr. Bec
Since '93 I have worked in various practices throughout Sydney & in the UK where I spent time with my now husband Darren Little. Darren & I returned to Sydney in 1999 & established the Central To Health practices in Artarmon & Surry Hills. In August 2004 we welcomed the newest member to the Central To Health team, our daughter Saffron, followed in 2007 by her little brother Quincy. I now am consulting in each practice part-time and spend the remainder of my time marveling at the growth & development of our great kids who are lucky enough to enjoy excellent health in part due to great Chiropractic health care & a toxin-free lifestyle.
---
Dr Darren Little (Chiropractor)
"Become a doctor, you have an interest in science," was my parents advice during high school. But it wasn't until I looked into chiropractic and found that it dealt with the restoration and maintenance of health that I was convinced this was the profession and philosophy for me. After completing a Bachelor of Science degree at
Sydney University
and then the two year Masters in Chiropractic at
Macquarie University
, I started practice as an associate in Bondi Junction in 1996. Between 1997 & 1999, I lived & worked in England & Wales, establishing numerous practices in a part of the world so new to Chiropractic. At the end of 1999, together with my wife Rebecca, we decided to put down roots in our home town and opened the practices in Surry Hills and Artarmon. Dr. Rebecca and I have been able to juggle the 'work together/live together' scenario very well, sharing the dual location effectively.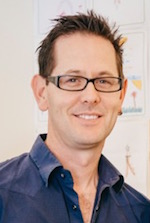 Availability
Mon am Surry Hills
Mon pm Artarmon
Tue am & pm Surry Hills
Wed am & pm Artarmon
Fri pm Surry Hills
Sat am Artarmon
…Click to read more about Dr. Darren
Our daughter Saffron was born in 2004 and had her first chiropractic check-up and adjustment at 3hrs old. Quincy arrived 3 years later and it wasn't long before we realized the difference between girl & boy toddlers. Needless to say, Quincy has been a lot more tough on his body, fearless in fact and we are thankful that despite the many thrills and spills he can benefit from balanced structure and properly functioning nervous system. We joke that he is just testing the immense talents of our paediatric chiropractic team! Both kids continue to be adjusted regularly and epitomise and enjoy a natural healthy lifestyle. In 2008 I took on the role of President of SOTO-Australasia (the body responsible for the teaching and organization of SOT within Australasia), and in 2011 I was elected President of SOTO-International. I spend time each year meeting with International chiropractors, sharing our knowledge & expertise and instructing Chiropractors and students around the world in the practice of SOT chiropractic.
---
STOP THE PRESSES!
In Sep 2012, Dr Darren (chiropractor) was awarded International Chiropractor of the Year by SORSI (Sacro Occipital Research Society International). This as you can imagine was an incredible honor and keeps Dr Darren very busy with numerous speaking engagements in Europe, the US, Japan & around Australasia. Rest assured though, the rest of the Central To Health team keep his feet firmly planted on the ground along with his countless Sydney patients who always knew he was an outstanding Chiropractor before the rest of the world caught on.
---
Dr Alissa Buda (Chiropractor)
With the knowledge that great health facilitates each person to be able to achieve their dreams, Dr Alissa is on a mission to help the next generation of children to be healthier and happier. Alissa studied chiropractic in Melbourne and has been with the Central to Health team since 2008. Her care is based on a Primal Health philosophy; that humans are designed to survive, adapt and thrive. Dr Alissa uses safe, gentle and effective SOT chiropractic techniques and Applied Kinesiology to maximise child's development, whilst equipping each family to make natural health choices in a very unnatural world. Married to another chiropractor, Robert, Dr Alissa has a 3 beautiful children, Isabella, Maximus & Eli.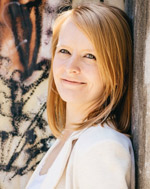 Availability
Tue am Artarmon
Thu pm Artarmon
Sat am Artarmon
---
Dr Helena Ford (Chiropractor)
"Chiro, Physio or medicine….. which to choose?" In the end, it was pretty easy. I wanted to help people BE healthy and STAY healthy ….rather then waiting till things broke and the wheels fell off before being able to lend a hand. Chiropractic is not the place for bones sticking out of skin, but it is a modality that can switch on your central nervous system (which controls everything). I am excited and grateful to join the team at Central to Health and work along side Bec and Darren in Surry Hills. I've been practicing for 11years and am still in awe at what chiro can do to aid our body's healing ability. After starting and running our own practice in rural NSW, (where I got the blessing of a seeing up to 4 generations in a family!) my husband and I have settled in the bustling InnerWest. We have 4 beautiful and energetic children between 2 & 11 years old, and we love to fill our lives hearing people's stories.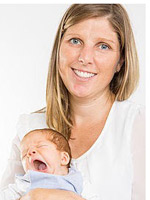 Availability
Tue am Surry Hills
Thu pm Surry Hills
…Click to read more about Dr. Helena
I have a passion for all people, but particularly pediatrics, women's health, sports and feet (feet I know weird right). I have a Bachelor and Masters of Chiropractic from Macquarie University, and have gone on to do various post graduate training including Applied Kensiology, Retained Neonatal Reflexs, Activator, pregnancy and children's health and Healthmarque's PZ prescription orthodics. I look forward to meeting you soon, and having the privilege to partner with you in your health goals.
---
Dr. Robert Buda (Chiropractor)
Dr. Robert Buda was born and raised in Sydney and after spending the early part of his career in Victoria decided to return to sunny Sydney and raise a family.
Dr. Rob is married to the fantastic Dr. Alissa and they have three beautiful children – Isabella, Maximus and Eli. He constantly wonders how he ended up with such a great family…
Dr. Rob reads voraciously and likes to always pull out a random fact just for fun. He writes, makes sour dough, teaches himself electronics, swims and tries to parent occasionally.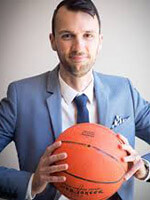 Availability
Wed pm Alexandria
Sat am Alexandria
---
Gary Zhang (Massage Therapist & Acupuncturist)
Hello, my name is Gary and I am Central To Health's Massage Therapist & Acupuncturist. I have been working since 2005 in the health field, most recently in my own Chinese Medicine practice in Mosman since 2006. I am so happy to join the extraordinary Central To Health team and to be able to be back on the southside, closer to my young family.
After years of natural therapy practice, I've formed my own diagnosis and treatment by combining ancient Chinese medicine philosophy and modern sport and rehabilitation methods. I specialise in chronic pain of the neck, shoulder and back. My techniques include Remedial, Deep Tissue, Swedish & Sports Massage, Foot Reflexology, Sports Rehab & Acupuncture.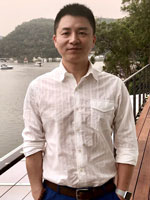 Availability
Tue Alexandria
Wed Surry Hills
Thu Artarmon
Fri Alexandria
Sunday Surry Hills
Click to read more about Gary…»
I am vegetarian and my hobbies are yoga, meditation and Tai Chi.
My provider number on remedial massage can be used on any health fund. My acupuncture provider number is suitable for most of the health funds, please ask our reception for details.
---
Mitch Brice (Massage Therapist)
Mitch has been on board with Central To Health as a Chiropractic Assistant since 2020, and as a Massage Therapist since 2021. Mitch studied a Diploma of Remedial Massage at the Australian Institute of Fitness and has a great interest in treating postural related muscle discomfort, as well as stress and anxiety related muscle conditions.
Mitch uses remedial techniques such as deep tissues massage, myofasical release, trigger point therapy and neuromuscular techniques, as well as well as providing both Sports and Swedish massage. Mitch completed his Diploma in 2021 and will be Health Fund approved by all Health Funds in August 2021.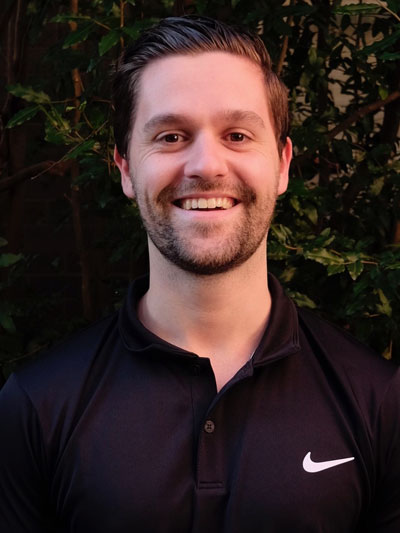 Availability
Fri Artarmon
Click to read more about Mitch …»
Mitch has always been passionate about the health field, and became specifically interested in Remedial Massage Therapy after benefitting from massage treatment himself due to several sports related injuries. For details on how to book with Mitch, please contact our reception.
---
Karina Paskin (Clinical Nutritionist)
Karina is a passionate supporter of whole food diets and nutritional education. She believes that each person's own unique metabolic activity coupled with his or her diet and lifestyle influences her client's health. Karina works with her patient's individual needs in implementing practical nutrition and lifestyle practices to alleviate and reverse health conditions all the while encouraging her clients to be the driving force behind their own health care, through education and empowerment. Karina's focus on education sees her keeping well informed with current evidence based research and hosting educational workshops in schools and in clinic. She works holistically, treating both physical & mental health together with implementing positive lifestyle changes. Karina is able to liaise with your other health care providers to ensure 'the whole person' is cared for. …Click to read more about Karina
Karina is an Accredited Nutritional Medicine Practitioner from the Australian Natural Therapists Association (ANTA) and has earned her Bachelor of Health Science Nutritional Medicine (BHSc NutMed) from Endeavour College of Natural Health. She is part of the Australian National Register of Accredited Natural Therapists and the Complementary Medicine Practitioner Associations Council. Central To Health is delighted to have Karina join our team. She will be consulting from the Artamon office from the end of 2018. Check our business hours page for her current appointment schedule.
---
Give our Sydney chiropractic office a call to schedule an appointment today!
---